A sustainable transport solution
AC Floby are consistently working for a reduced environmental impact, which is a key to a sustainable future. An example of the company's sustainability work is the effort to increase, in cooperation with Skaraborg Logistic Center, the procentage of rail freight transport.
-We have managed to increase the proportion of freight transport by train for our production materials and we will continue our environmental work in the coming years. This helps us provide even more environmentally efficient and cost-effective solutions, says Magnus Johansson, Sales & Marketing Manager.
Falköping town, who I located close to AC Floby, has a 150-year-old tradition as a hub for rail-based transportation. Skaraborg Logistic Center is a continuation of this tradition.
-Leif Bigsten, Project Manager on SLC writes on their website that they have developed a so-called Dryport concept, connected with the new combined terminal on Marjarp. The combined terminal will then serve as a Dryport to, among others, the port of Gothenburg. A Dryport is an inland harbor with the same modern features, cost efficient and safety as the port itself.
The daily operation on the combined terminal is driven by TBN Åkeri AB. The transport company TBN Åkeri together with DB Schenker and other key suppliers has been involved within the terminal project in order to make it work as good as possible.
-Morgan Svensson, Supply Chain Manager says that the reduction of emissions due to transport by train shows that the energy consumption is reduced by 65% and greenhouse gases (GHG) are reduced with about 79%. Furthermore, this is also a more cost-efficient option in relation to transport by trucks. We are looking at a significant win-win situation since the environment and our business will benefit from this.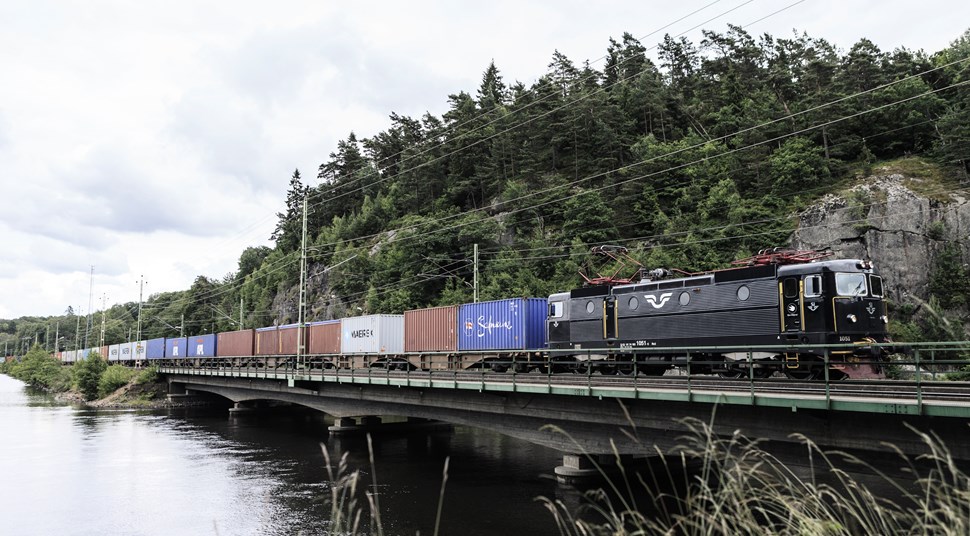 Container shuttle on the way to the port of Gothenburg
References:
http://www.skaraborglogisticcenter.se/

2018-01-12
Written by Emil Svantesson, Marketing & Communication Coordinator.