A step forward for our employees health.
We care about our employees, therefore we want them to have access to a reliable and good occupational health service. We have chosen to collaborate with Avonova, wich is one of the leading occupational health services in Sweden. AC Floby and Avonova's goal is to educate and develop employees and managers to get a world-class functioning and systematic work- environment.
Avonova wirtes on their website that they have expertise in the relationship between organization, health and individuals, and they are a strategic partner for the development of companies and organizations in both prevention and health promotion.
Avonova experience that active actions create a shorter way to a healthier life. An investment in health creates effects both for today and for the future.
-Catarina Källgren, HR- & WE Manager at AC Floby says that our companys success are based on the fact that the staff is staying healthy and feels safe at work. In order to maintain, prevent and promote a good health, we need a occupational health service with a good reputation and are locally placed. Furthermore, Catarina saying that a lot of dedicated employees have worked with us here at the Floby plant for many years and this have resulted in very low staff turnover and sick- leave.
AC Floby believes in dialogue between colleagues and finds that commitment and involvement are included in everything we do, as in health as in world-class products.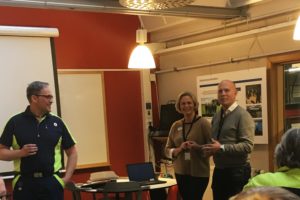 This picture is taken when two representatives from Avonova visited AC Floby and informed our employees about their support.
References:
www.avonova.se
2018-02-01
/Emil Svantesson, Marketing & Communication Coordinator, AC Floby
emil.svantesson@acfloby.se